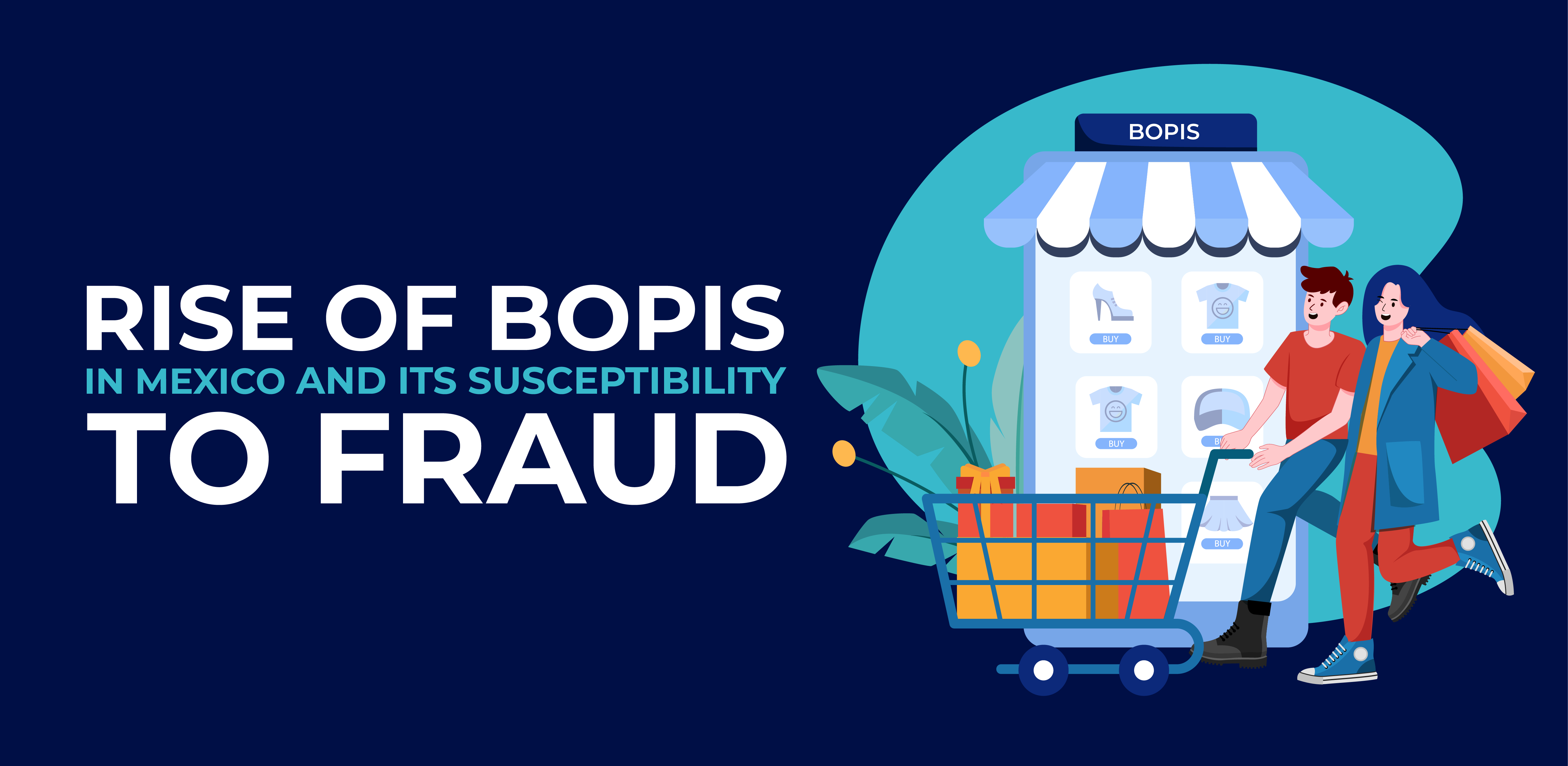 The Rise of BOPIS in Mexico and its Susceptibility to Fraud

Recently, the Buy Online, Pick Up In-Store (BOPIS) model has witnessed a notable surge in popularity within Mexico. According to a comprehensive study conducted by the reputable AP-NORC Center, there's been a discernible shift in consumer behavior, with approximately 33% of Mexican adults under 50 expressing a preference for utilizing this innovative service. This trend underlines a growing inclination towards a retail solution that seamlessly blends the convenience of online shopping with the immediacy of in-store pickup, effectively catering to the demands of a digitally savvy and time-conscious demographic.
Origin of BOPIS

BOPIS emerged as a solution for consumers looking to avoid shipping wait times, allowing for online purchases with in-store pickup. This modality benefits merchants by maximizing inventories and offering agile and responsive service.
How BOPIS Works

Consumers want options, accessibility, and flexibility in receiving their orders, aiming to complete purchases or returns quickly and efficiently. BOPIS is crucial for providing this updated form of convenience. It allows customers to select the products they want to purchase, giving them the choice to either wait for the items to be delivered to their home, or wait for the notification that their items have arrived at a nearby store, and then go pick them up.
The process works as follows:

Online Purchase: Customers make the purchase online or through an app, simultaneously selecting the time and place for in-store pickup.

Order Preparation: If the product is in stock at the chosen local store, an associate locates, selects, and packs the order for the customer, notifying them when it's ready for pickup. If it's not in stock, it must be ordered from another store or warehouse, and the customer is notified once available.

Order Pickup: Customers pick up their order in a designated area within the store or, in some cases, through curbside pickup, receiving their orders without leaving their vehicles, showing only a photo ID.

Fraudulent Use of BOPIS

With the adoption of BOPIS, fraudsters have exploited this system using stolen information to make purchases and pick up products in stores, complicating the tracking and recovery of items. Fraudsters use BOPIS addresses to test stolen cards, making initial small transactions and then increasing the value of orders once trust is established.
Challenges in Fraud Prevention

Fraud prevention in transactions involving in-store pickup presents unique challenges:
Difficulty Identifying Stores: Pickup points may be hard to identify in residential areas or inside buildings, complicating verification and tracking.

Shared Addresses: Multiple users may share the same pickup address, which doesn't necessarily imply a connection, requiring careful analysis to avoid false positives.

Traceability Issues: In chargeback situations, lack of order traceability becomes a significant obstacle, especially when the credit card used isn't directly linked to the pickup address.

Use of Stolen Cards: Fraudsters use these addresses to test stolen cards, making initial small transactions, then increasing the value of orders once trust is established.


Delivery Challenges: Products are delivered to the store rather than directly to the customer, eliminating the possibility of conducting verifications during delivery.
How Do We Detect It

FUGU specializes in conducting thorough transaction analysis, covering pre – and post-checkout, that is essential for navigating a transaction's complete life cycle. This comprehensive approach is vital for accurately identifying the risk level associated with each order, especially crucial when business addresses are involved in the BOPIS model.
Continuous Signal Reception: FUGU receives and analyzes continuous signals throughout the transaction process, from site visits to verification request responses, providing a detailed view of user behavior.
IP Location Analysis: All IP locations are recorded and analyzed, from where users interact with the site and make transactions, allowing identification of behavior patterns and suspicious areas.
Distance Measurement: FUGU calculates the distance between the order origin (user's IP location) and the delivery address, with significant discrepancies being possible risk indicators.
Address Verification: Detailed verification is conducted to determine whether the delivery address is commercial or residential, identifying legitimate or potentially fraudulent BOPIS pickup points.
Unified Analysis of History and Data Connection: FUGU evaluates the consistency of user behavior and transaction history, connecting data from multiple sources and past orders, even if the user has created new accounts. This unified analysis is essential for maintaining order traceability and understanding the unique behavior of users, avoiding false positives that could arise simply from the increased risk associated with using business addresses.

Although convenient, BOPIS introduces unique challenges to fraud prevention. Each transaction carries a distinctive set of behaviors and risks, and the use of business addresses adds layers of complexity. The rate of false positives may increase if these specific variables aren't handled adequately, which is crucial for protecting both the customer experience and merchants' financial health.
---